| | |
| --- | --- |
| Posted by SRoya on July 21, 2014 at 5:30 AM | |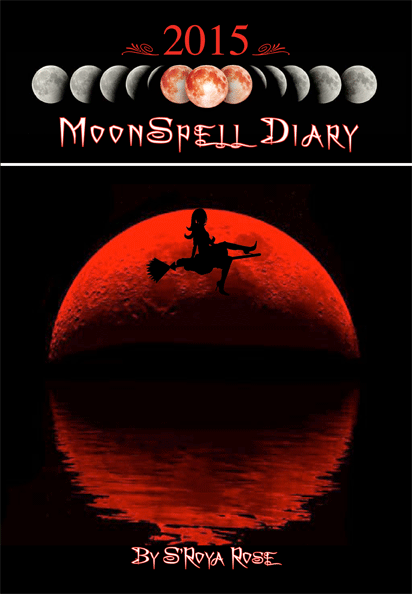 S'Roya Rose, one of Australia's better known High Priestesses, presents her 2015 MoonSpell Diary.
Created with the busy 'Goddess' in mind, providing the perfect space to work out the best moon times for your Spells and Rituals while leaving plenty of room for your weekly appointments and reminders. Full of simple every day MoonSpell wisdom, this comprehensive moon diary, takes us on a spiritual journey into the Magickal side of life. S'Roya's Goddess wisdom, helps us to explore the Full Moon and New Moon, her magical effect upon us, the different phases and their meanings, including some useful tips on walking the Priestess path. How to set up your alter, create magical sacred space, the need for smudging and cleansing, the use of Elements. Everything you'll need to know to prepare for your MoonSpell magic. S'Roya also includes the days when Mercury goes Retrogade, and what that is really all about. Throughout the MoonSpell Diary there are some simple reminders and tips on what the current phase is best used for, including the Goddess Wheel of the Year, her Sabbats - Solstices and Equinox celebrations, and the 13 Esbats (Full Moons) to enhance 2015 for you.
Taking Pre-Sale Orders now... $19.95 + $3.00 postage (Aussie only) ... click here to purchase!
For bulk Wholesale orders email S'Roya -: email@sroyarose.com
Categories: Spiritual